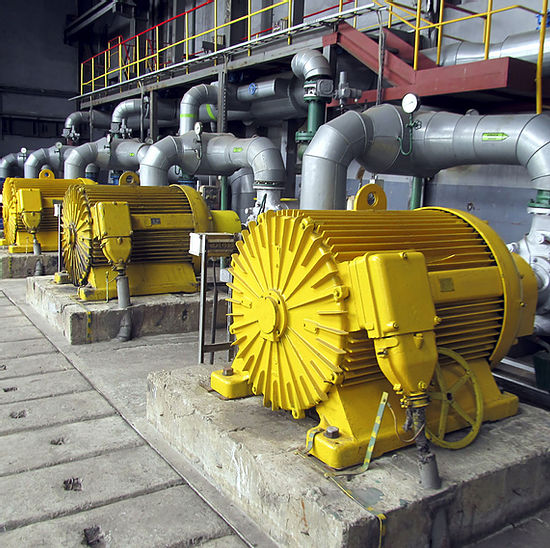 Pioneer Power Group provides Motor Starting Studies to determine the worst-case inrush current and resultant voltage drop during the starting of large motor. Knowing the magnitude of voltage drops help to determine if alternate starting methods are needed (i.e. RVSS "soft starter", VFD, autotransformer starter, capacitor assist starter, etc.) and ensures critical loads will not drop out as motors come up to speed.
Why Is Motor Starting Analysis Needed?
When a large motor connected to its load is started across the line, it can draw current in the order of 5-7 times its rated full load current. This high current draw across the impedances within the distribution system can result in disturbances to other equipment. Voltage drops or flickers can negatively affect many different types of loads including computers, electronic drives/control systems and lighting. If a motor is started under heavy load, the time period of higher current draw and its associated problems can be extended. Before purchasing a large motor, it needs to be verified that equipment will not be disrupted by the voltage drop as a result of its starting current.
How Pioneer Power Group can help
A motor starting study from Pioneer Power Group identifies the worst-case motor inrush current and voltage drop for all relevant operating scenarios. Conducting this study before the purchase of a large motor can save time and money by ensuring that planned or existing equipment can accommodate the effects of motor starting without damage or disruption to other equipment or loads in the distribution system.
The voltage that equipment like this can tolerate without unexpected shutdown or malfunction is defined by a CBEMA curve. In a Motor Starting study, our engineers compare the calculated voltage sag at key loads to this curve, ensuring that voltage drops at the locations of the sensitive loads are within its tolerance and that motor starting won't have any adverse effects on the system. Our Engineers work with our customers through this process to recommend proper settings of protective devices and transformer taps to accommodate the inrush current and voltage drop.
"We Treat Every Customer Like They're Our Only Customer."
At Pioneer Power Group, we make power system studies easy for our customers. Our engineers clearly and comprehensively lay out what system information is needed up front and always follow up and answer questions in a timely manner. Facilities trust us because we integrate the most recent electrical codes, latest software packages, and extensive industry knowledge in delivering our final report. We always try to go above and beyond to serve our customers. For more information about motor starting analysis or any of our other services, contact us today.